Is it? Is it okay not to be okay?
I've spent so much of my life being "strong". As a young girl I built up walls to protect myself from the feelings of grief and loss, fear and sadness I felt. I decided I would no longer allow myself to cry; to me a sign of weakness. I refused it. And for years, I pushed back the tears, to the point where they just didn't come anymore. I still felt things. I just didn't often show it. I put on a smile. I was an extra good girl. I was "fine" always.
I grew up in church. I went to Christian school. I knew all the right words and phrases. I knew the right scripture verses. I saw all the "perfect" people; how private they were and just how strong, and always okay, they were. I learned how to be strong, or at least how to fake it. Although no one ever said it, I learned by example you hide weakness and try to overcome it. To look good, because we're suppose to be strong...and full of faith...always peaceful...full of joy...never wavering...and never weak. At least that's what I learned.
Yes, scripture does teach us to look to Christ for strength and peace and joy in all circumstances and not to waver from our faith. But that's not ALL scripture teaches us...
For everything there is a season,


a time for every activity under heaven.


A time to be born and a time to die.


A time to plant and a time to harvest.


A time to kill and a time to heal.


A time to tear down and a time to build up.




A time to cry and a time to laugh.




A time to grieve and a time to dance.
Really? Did you catch that? A time to cry. A tie to laugh. A time to grieve. A time to dance.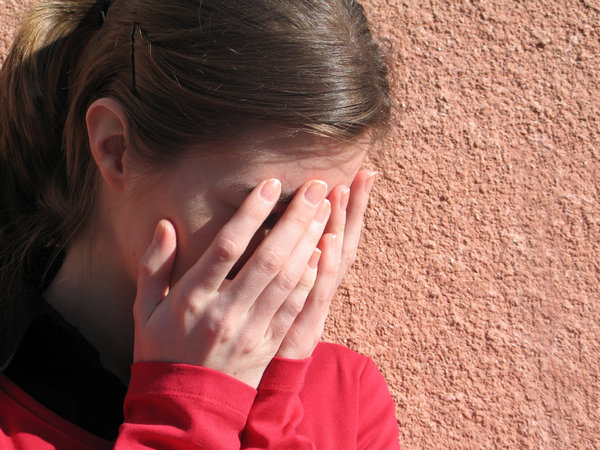 It's not a sin to cry...or grieve. It's not a sin to be sick, weary, downhearted, disappointed, angry or depressed either (check out David in the Psalms, my friends). We do
not
have to feel guilty for it. It's okay not to be okay all the time. In fact, it is healthy to work through those normal, human feelings. Yes, there will be a day when we will laugh again, there is a time for that too. But that day doesn't have to be today. Today we can cry on His shoulder because He understands. Yes, Jesus, understands...
He was despised and rejected—


a man of sorrows, acquainted with deepest grief.


We turned our backs on him and looked the other way.




He was despised, and we did not care.
Yet it was our weaknesses he carried;
it was our sorrows that weighed him down.
Isaiah 53:3-4

Paul asked the LORD to take his afflictions from Him, but...
Each time he said, "My grace is all you need. My power works best in (your) weakness." So now I am glad to boast about my weaknesses, so that the power of Christ can work through me. That's why I take pleasure in my weaknesses, and in the insults, hardships, persecutions, and troubles that I suffer for Christ. For when I am weak, then I am strong.
II Corinthians 12:9-11
If we are never weak, and honest about it, than how can God be shown strong in our lives? If we're so dependent on our own strength how will we ever boast in His strength in us; how He works in our very real, broken lives? How else can we learn just how sufficient His grace is for us?
Dare I say it? It is in the times of sorrow, weakness and trial that we turn more fully to the One who is our true strength. It is in those times that we allow Him to do His work in us and realize our utter dependence on Him. It is when we draw closer to Him...and we recognize just how close He is to us.
The

Lord

is close to the brokenhearted;


he rescues those whose spirits are crushed.
We should not despise this refining, sanctifying, maturing time. Some Christians seem to think that if we were better Christians these trying times would not come or if we had stronger faith things would go well for us or that God promised us smooth sailing. God did not promise us that hard times would not come. He did promise us that He would walk through them with us, protecting us.
Do not be afraid, for I have ransomed you.
I have called you by name; you are mine.
When you go through deep waters,
I will be with you.
When you go through rivers of difficulty,
you will not drown.
When you walk through the fire of oppression,
you will not be burned up;
the flames will not consume you.
For I am the

Lord

, your God,
the Holy One of Israel, your Savior.
What a beautiful promise! Once we've walked through the difficulties of life, we can, in turn, comfort others with the same comfort we have received. We become witnesses to His faithfulness. Our faith is strengthened. If we never experienced hardship, how could we relate or know how to comfort those hurting around us?
He comforts us in all our troubles so that we can comfort others. When they are troubled, we will be able to give them the same comfort God has given us.
How can others be blessed if we're never honest enough about our weaknesses and pain to allow them to comfort us, to pray for us, to help as the hands and feet of Christ should? It's a double blessing, for us and them. What if we're so busy being strong and courageous that we make others feel as I felt, that being HUMAN is wrong? We live in a fallen world where troubles come. Life is not easy. We need each other. We are the body of Christ...
For just as each of us has one body with many members, and these members do not all have the same function, so in Christ we, though many, form one body, and each member belongs to all the others. We have different gifts, according to the grace given to each of us. If your gift is prophesying, then prophesy in accordance with your faith; if it is serving, then serve; if it is teaching, then teach; if it is to encourage, then give encouragement; if it is giving, then give generously; if it is to lead, do it diligently; if it is to show mercy, do it cheerfully.
In recent years I have been humbled time and time again. Hard times and hard things have taken me to my knees in prayer. . I began to clearly see that walls I built around myself for protection were really a barrier. Thankfully the LORD has opened my eyes to see my need for HIS strength...and the support of His people. My definition and understanding of true strength has changed. Those walls are slowly coming down, stone by stone. I know I can't do it alone. Sometimes I need help. That's okay. It's okay to cry. It's okay to be weak and vulnerable, to be REAL. It's okay to allow others in. It's okay to not be okay all the time, not fully anyway.
It's in Him and His people that I find comfort and hope. And it's in the hard times that I have matured the most. I have seen the goodness of the LORD.
No matter what you or I are going through...
There will be a day when we will see the good He promised to us in all of this, in everything (Romans 8:28).
There will be a day when we feel strong again (Philippians 4:13).
Even in the midst of this we can find joy and thankfulness in knowing HE is near (Psalm 145:18).
He is our hope (Psalm 33:20).
He will turn our tears to gladness (Psalm 30:11).
We will be okay...as long as we keep turning to Him.
But it's okay not to be totally okay today...
Just keep going to the One who heals and allow Him to bind your wounds.
(Psalm 147:3)
Joy will come in the morning!
This song by Jason Gray has recently ministered to my soul. Take the time to listen...and be blessed.
The Spirit of the Sovereign L

ord

is upon me,
for the L

ord

has anointed me
to bring good news to the poor.
He has sent me to comfort the brokenhearted
and to proclaim that captives will be released
and prisoners will be freed.
He has sent me to tell those who mourn
that the time of the L

ord

's favor has come,
and with it, the day of God's anger against their enemies.
To all who mourn in Israel,
he will give a crown of beauty for ashes,
a joyous blessing instead of mourning,
festive praise instead of despair.
In their righteousness, they will be like great oaks
that the L

ord

has planted for his own glory.